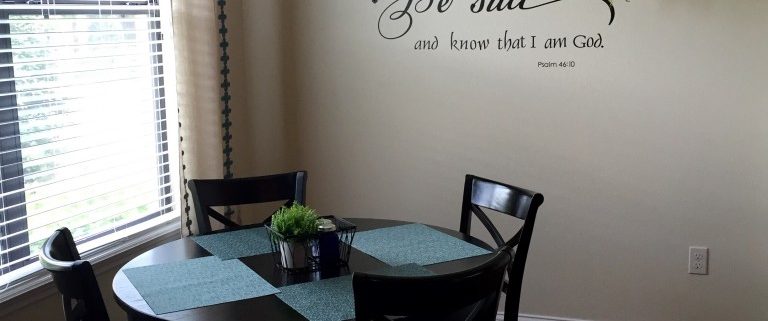 When Sandy Perlewitz contacted us about updating their home, I instantly liked her and knew she was going to be a joy to work with. Well, I was right. Sandy is kind, generous, loving, full of faith, and just the kind of person you want to keep in your circle of friends. What I loved about Sandy was the struggle she wrestled with in spending money on herself, her house.  After giving her the proposal she sat on it for a month or two and decided that the numbers needed to come down for her to have a peace about the project. I love that about her. She is thoughtful about the resources that God has given her and she wanted to make sure that before she spent it on herself, He needed to give her a peace about it. I know she bathed the decision in prayer and council. This made the project all the more special. I knew this was a family that rarely spends money on their own comforts and this was a big deal that she was taking this leap with us. We were honored.
Sandy's house was modestly decorated. Nothing flashy, formal, or overly pricey.  Since moving into their home a few years back, Sandy was never really in love with the overall feel of the house. That's why she called us. Keeping all the existing furniture she just needed help with paint colors and finishes. Shopping for the Perlewitz family was so much fun because I knew they were going to be grateful with whatever we came up with. I was right. When Sandy walked through the finished product, she looked like she didn't know what to say but wanted to shed tears out of thankfulness.
Sandy and Tim, I want you to know how GRATEFUL we are that we got to serve your family in this way, giving you the house of your dreams, a place you love coming home to, a place you can serve God and serve your family and friends. You guys are one of a kind and we are so thankful to know you.
BEFORE YOU GO...
Want to keep up with me? Sign up for my Knewsletter for updates, news, and personal design tips. It's FREE!
https://kristinakreations.com/wp-content/uploads/2016/09/FullSizeRender-10.jpg
1024
768
Kristina
http://kristinakreations.com/wp-content/uploads/2014/10/23_201900611110957_271140_large.png
Kristina
2016-09-28 21:25:30
2016-09-28 21:43:13
Perlewitz Paradise